1. Hai Phong port
Built by the French in 1874, Hai Phong port is now the most modern container port in the North of Vietnam. With facilities including advanced network system, modern equipment technology, 200 CCTV and information and personnel management system, Hai Phong port is always a convenient location, ensuring safety and suitable for transport purposes international commercial transactions.
Currently, Hai Phong port consists of 5 branches. The port area has 21 wharves with a total length of 3,567m with a design depth from -7.5m to -9.4m. The total area of ​​container yard at Chua Ve and Tan Vu port branches is 712,110m2 and 3,300 m2 for CFS warehouse at Chua Ve port.
As the seaport with the largest traffic volume in the North of Vietnam, Hai Phong Port is capable of receiving about 10 million tons / year, of which, Hoang Dieu Port Branch accounts for nearly 60% of the loading and unloading cargo. At the same time, the largest vessel can receive 40,000 DWT at Lan Ha transshipment area and the lowest with 700 DWT at Bach Dang buoy.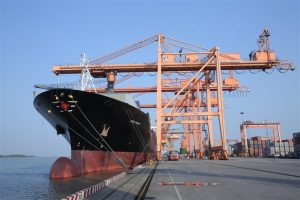 Currently, towards the goal of stable and sustainable development, Hai Phong port is implementing the investment project of Dinh Vu Port with 5 berths and increasing the ship's tonnage to 55,000 DWT and in the future with 100,000 DWT in Lach. The district invests in IT infrastructure.
2. Vung Tau Port
This is a port cluster with 4 areas including 10 major ports serving the needs of oil and gas trading and trading in the Southeast region of Vietnam. At the same time, Vung Tau port is one of two international gateways in Vietnam.
On April 10, the successful reception of 160,000 tons of Yang Ming Wellhead vessel with capacity of 14,000 TEU docked at Tan Cang – Cai Mep Thi Vai port (CMTV) proved its handling and loading services. unloading container ships at CMTV port in particular Vung Tau port in general.
According to the plan to 2020, in addition to 4 areas of Cai Mep – Sao Mai Ben Dinh, Phu My – My Xuan, Dinh River and Dam – Con Dao wharf area, Vung Tau port will expand 2 more berth areas in Long Son. and Sao Mai-Ben Dinh serving the petrochemical industry and passenger transport.
3. Van Phong port
Located close to international routes with the shortest distance across the Pacific compared to Hong Kong and Singapore, Van Phong port has the potential to become an international transshipment port in Vietnam.
Van Phong port construction project has been restarted since late 2009 and is scheduled to be completed by 2020 in two phases. As expected, the international transshipment port in Vietnam is capable of receiving 5 million TEUs per year, with 8 berths for container ships with a capacity of up to 12,000 TEUs and 8 berths for feeders and the total port area of ​​405 ha. and the total berth length is up to 5,710m.
Currently, Tan Phong port has completed two terminals: My Giang and Doc Let and Ninh Thuy.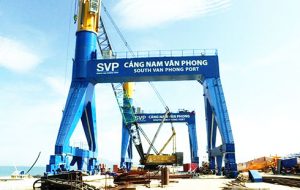 4. Quy Nhon port
Located in the center of Quy Nhon City – Binh Dinh Province and possessing natural conditions as well as favorable geographical location, Quy Nhon Port is considered as the leading port in the Central region ports with the ability to receive ships. with a tonnage of 30,000 DWT and 50,000 DWT.
The port has a total surface area of ​​306,568m2; total warehouse area accounts for 30,732m2 with CFS warehouse 1,971m2; 201,000m2 of yard area with container yard accounts for 48,000 m2.
In the future, it is expected to invest about VND 180 billion in Quy Nhon port to upgrade the running channel capable of welcoming 50,000-ton ships in and out of the port safely and conveniently. At the same time, after being under the investment management of Vietnam Maritime Corporation, Quy Nhon port is determined to become an international port in the South Central region, promoting opportunities for the development of Vietnam's maritime transport industry.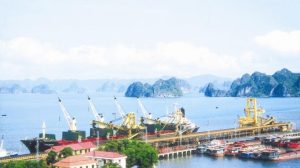 5. Quang Ninh port
Quang Ninh Port is a deep-sea port located in the key economic region of Northern Vietnam. According to the plan of the Ministry of Transport, Quan Ninh port holds the second position in the important group of seaports in Northern Vietnam, after Hai Phong is the central position.
The port has a total surface area of ​​154,700m2; total warehouse reaches 5400m2 and container yard up to 49000m2.
With favorable natural and climatic conditions and available facilities, Quang Ninh port is constantly developing and improving its technical and technological system while ensuring close security in order to improve service quality of yourself.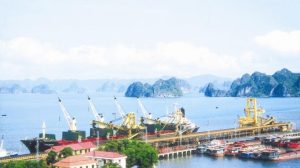 6. Saigon Port
Saigon Port is the main port of southern Vietnam, playing a key role in connecting maritime transport of the Southeast region and the Mekong Delta.
Since its first opening in 1860 under French colonial rule, Saigon Port today has become an international port. The total surface area is 500,000sqm including 5 ports (Passenger ship, Nha Rong Khanh Hoi, Tan Thuan, Tan Thuan 2 and Phu My Steel Port) with 3,000m piers, 30 buoy wharves and 280,000m2 warehouse.
With the motto of sustainable development, which is the main maritime gateway of Vietnam, besides setting the goal of improving service standards, Saigon Port will develop and operate deep-water port and become a War Port. National Strategy in Southern Vietnam.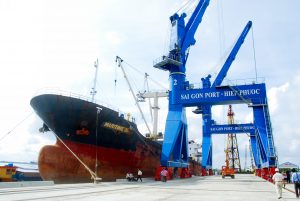 7. Cua Lo port
Cua Lo port belongs to Nghe An port cluster and is approved as an important container port in the group of seaports in the North Central region of Vietnam, with a port length of 3,020m with the capacity to receive ships of 30,000 DWT – 50,000 DWT.
At the working session of Prime Minister Nguyen Xuan Phuc in Nghe An last February, the planning of Cua Lo port cluster will be implemented. It is expected that the plan is expected to be in 2030 with the goal of becoming an international seaport, receiving ships of up to 10,000 DWT as well as meeting the import and export needs of Nghe An province and neighboring provinces. North Central region, attracting a part of Laos and Northeast Thailand.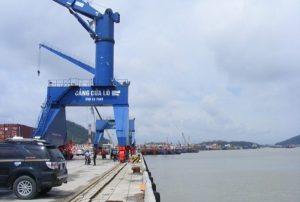 8. Dung Quat Port
Located in Quang Ngai province, Dung Quat port is Vietnam's national general seaport. Every year, the number of cargo handled through the Port is about 0.6 million tons, the number of vessels docked an average of 150 ships / year.
Dung Quat port consists of 2 port areas with a total warehouse area of ​​3,600m2 and a port yard of up to 50,000m2. Terminal 1 is the main port area in Dung Quat Bay capable of receiving 70,000 DWT ships with the function of loading and unloading, transporting all goods and equipment to build Dung Quat Oil Refinery. Meanwhile, wharf No. 2 at the mouth of Sa Ky seaport has the capacity to accommodate ships of 3,000 DWT, mainly for local maritime transport needs.
According to the Government's plan, a port area in My Han Bay in the future will become part of Dung Quat port.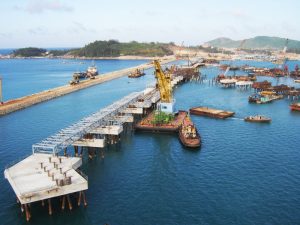 9. Chan May Port
Chan May Port is a general port of our country located between the two urban centers of Hue – Da Nang. Besides the ability to receive container ships with a tonnage of 50,000 DWT, Chan May port is also selected by the Asian Yacht Association to build a stop for yachts in Southeast Asia with the ability to welcome cruise ships. The international calendar is 362m long and has a total capacity of 225,282 GRT.
Currently, Chan May port has Ben 1 and 2 berths and Ben 3 will be completed in 2018. According to the plan, by 2020, Chan May port will have 6 general cargo berths with a length of 1,680m. By 2030, this port will have 8 general cargo terminals with a length of 2,280 m. It is forecast that by 2020, the volume of goods via Chan May port will reach 7.4 million tons / year.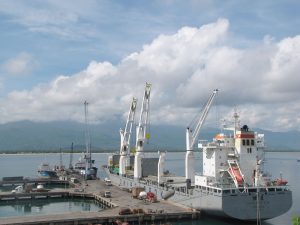 10. Da Nang Port
In the last position, Da Nang port is also in the group of general ports, the focal point of the whole country. Da Nang port has three berth areas: Tien Sa – Son Tra, Lien Chieu and Tho Quang, of which, Tien Sa – Son Tra port is the main berth with a total yard area of ​​178.603m2 and 14.285m2 for the total area. warehouse.
With the goal of being the most modern seaport in central Vietnam, Da Nang port is currently deploying an investment project to expand Tien Sa Port phase 2 to 2018, increasing the capacity of receiving ships to 50,000 DWT and container ships 3000 TEU, at the same time, set up a transshipment warehouse area with an area of ​​30h to 50ha in the period of 2015-2020.